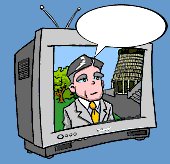 Now, you can get even more of Mriganka Dadwal. The IIT damsel recently became sole anchor for her TV show on Wednesday evenings.
Catch her showcasing the latest gizmos and accessories on
Ab Ayega Mazaa
which airs at 5.30 pm on Zee Business.
By the way, Mrigs has declared that this blog has degenerated to the level of the Page 3 supplement in a national daily.
Well, we beg to differ and if the Kanpur lass continues to compare us to that infernal publication, we promise to see her in court.